Project Name – Mellacheruvu Residence
Location – Jayabheri The Peak, Hyderabad
Practice: The Design Storey
Lead Designer: Prerna Agarwal
Year of Completion – January 2020
Gross Built Area – 4395 sqft
Photo Credits – Ricken Desai
The Design Storey was launched in 2016 by Prerna Agarwal with the vision of telling the client's story through design. She felt that designers sometimes missed the core purpose of interior design, which is to complement and enhance the client's own identity. She wanted to carve a niche for herself by creating projects that elevated the client's sense of self through coherent design, timeless luxury, and creative storytelling.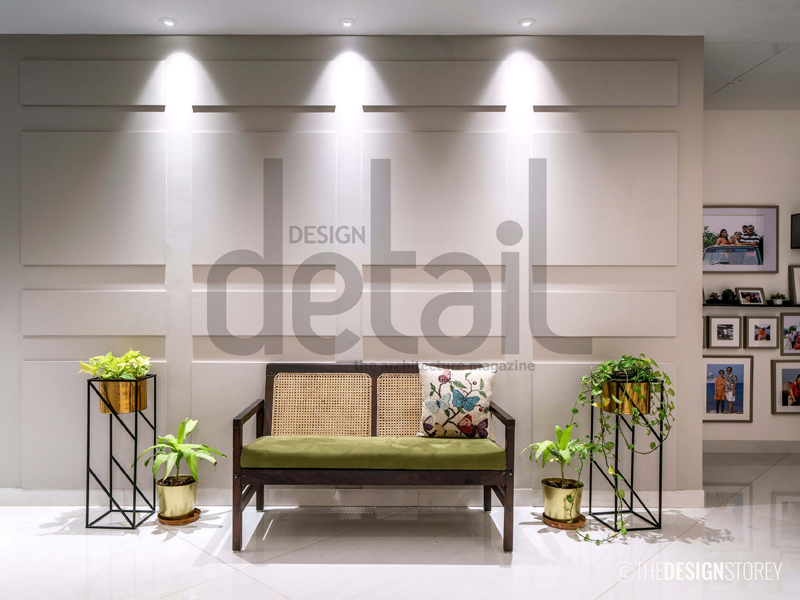 She uses her thirst for adventure, and her experiences from travelling, living, and studying in various parts of the world to inspire her design. So her vision for her latest project Mellacheruvu Residence was 'modernity in tradition'. She paired modern French with contemporary design principles and added a dimension of traditional Indian style. The French aesthetic comes through in the armoires, settee, chesterfield sofa, crystal chandelier, coffered ceilings, wainscoting and crown mouldings. Contemporary design principles reflect in the taupe, cream, milky white, chocolate brown and tone-on-tone colour palette, concrete-finish walls and unembellished furniture. The heirloom handcrafted wooden pieces and Kashmiri carpets add a traditional context and richness to the storytelling.
This was a challenging project to work on because of the specific brief of the client, the different preferences and penchants of each member of their family, and a tight budget. However, these constraints forced her to be more creative. She repurposed some pieces from the client's previous house, like the study table which she re-polished and attached to the showcase unit, the book cabinet in the family room to which she added more detailing, height and colour, the crockery unit armoire (formerly a bookcase) to which she added drawers, height and a cool silver finish, and the armchairs in the master bedroom which were given a face-lift with new wicker woven onto them and their seats reupholstered.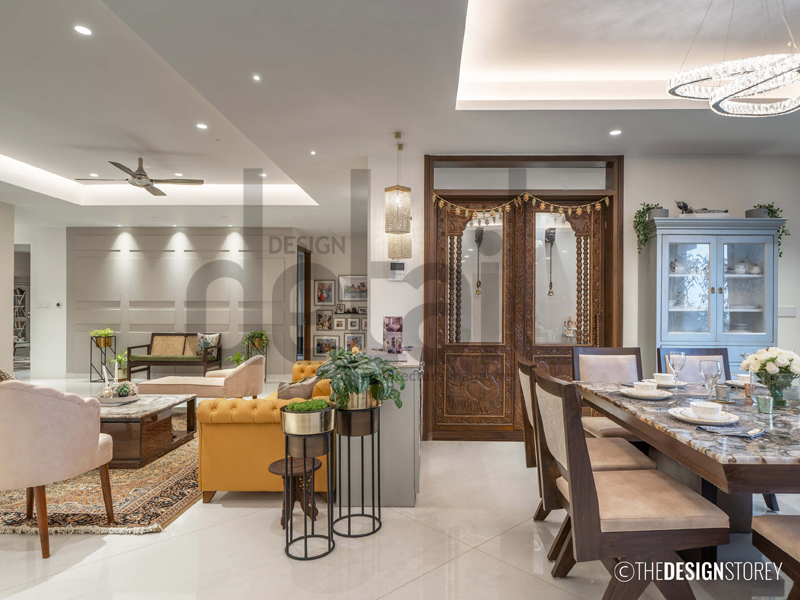 Prerna is always curious to explore how different materials and textures can be used together in new ways to create a novel yet cohesive whole. For example, the wrought iron and concrete side table with attached bedside light in the son's room was counter-intuitive for an indoor space yet it complemented the industrial theme of the room very well. Similarly, the four-poster bed in the daughter's room, the dining table precious stone marble top, the customised oriental wallpaper, art-deco inspired dresser and side-tables with crystal handles in the master bedroom were all intentionally designed and chosen by her to create a stimulating contrast while maintaining congruency and fluidity between spaces.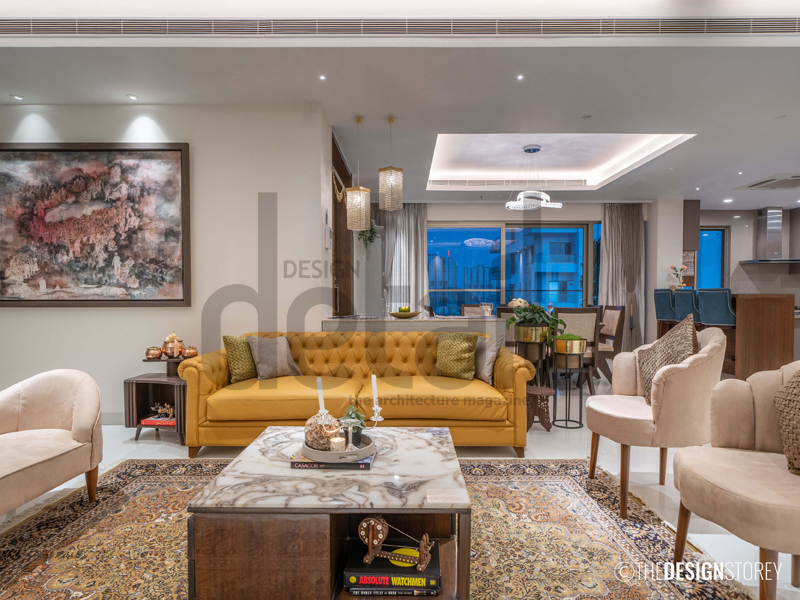 For the designer, great design and timeless luxury are not only about appearance, but also about the quality of materials and workmanship, value for money, ergonomics and functionality, and ease of maintenance. That's what makes a happy client and ultimately a happy designer!