Fact File
Project Title: Sudhir Bhai Seth House
Location: Ahmedabad, Gujarat, India 
Practice: Manisha Shodhan Basu
Structural: DiaGrid Consultants
Area: 4200 sq.ft
Photography Credits: Maulik Patel; Inclined Studio
Architecture is about finding the right chords to strike in envisioning and constructing a space. When spaces amalgamate to create a new life, fresh energy, it invokes happiness and sounding spirit to its context. Humbly dissolving into a nourishing wave of being wholesomely alive. This residence reflects the story of its dweller and his life experiences, transforming itself into a jewel, visualized as an asymmetrical concoction between lines and curves.
Nestled towards the west of the city of Ahmedabad, in a gated community, this residence dwells enriching the surroundings, imbibing an eco- friendly personality. Imparting the client's requirements, Ar. Manisha Shodhan Basu envisions a brick and concrete brilliance that exudes a charming quality to the bungalow.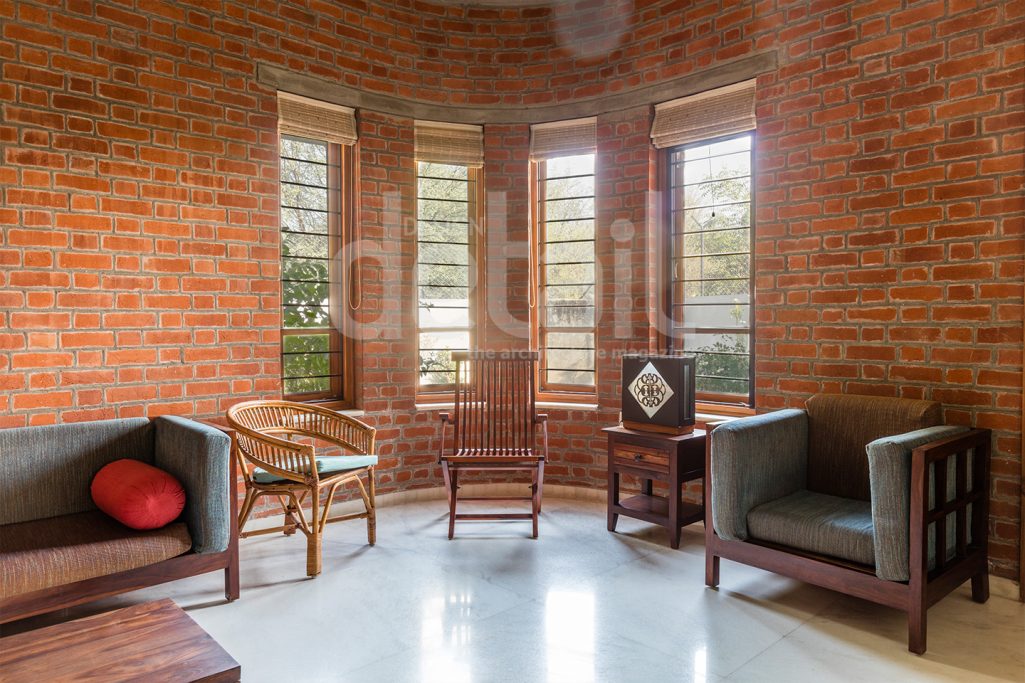 The design process assembled an array of ideas to craft the dream with spacious rooms and family areas. The climate responsive design invoked natural light and ventilation making the whole house a living breathing organism. The residence was composed of three bedrooms, a living room and a lounge on the first floor overlooking the landscapes. The aesthetic combination of brick and reinforced cement concrete add to the drama spoken along with a material palette of marble and wood integrated into the interior décor.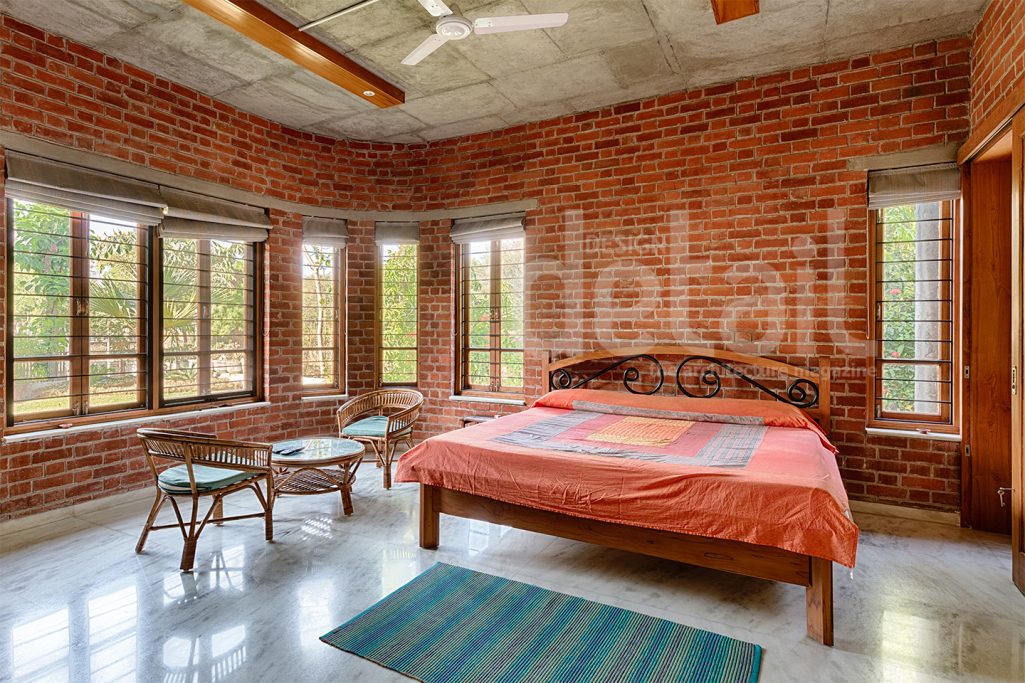 The asymmetrical lines and soft curves of the house emote a deep relation that enchants the play of light and shadow. These shapes bring in an ethereal link between man, nature, and architecture. The subtle colour tones harmonize the whole experience with red and grey shaded ambiance. An overall rustic theme speaks of being connected to earth eschewing many decorative patterns, thus resonating with a countryside feeling. An expansive veranda provides a space for large gatherings and events.
This is also about revoking the resident's childhood memories in veranda and garden on the outer layer of the residence. The garden blooms with indigenous flowers and local seasonal vegetables and fruits, ensuring a self-sustaining system wrapping around. The fascination of volumes is complemented by a staircase that takes the central pivotal focus welcoming the eternal bliss, seamlessly merging indoors and outdoors.
This residence is an epitome of fulfillment, resonating in various dimensions, instilling an amber glow of life tangled in everything.   
Manisha Shodhan Basu
Manisha Shodhan Basu is a practicing architect, furniture designer educator, and author based in Ahmedabad, India. She is a graduate of C.E.P.T., Ahmedabad with a Master's Degree in Architecture from the Royal Danish Academy of Arts, School of Architecture, Copenhagen. She has been practicing in Ahmedabad for the past four decades. Manisha has also been a researcher at NID and a design instructor, both at the school of interior design and Architecture, CEPT Ahmedabad. She has also authored a book called 'Le Corbusier's Shodhan Villa: 'A personal look at his last residential architecture' which is the only comprehensive inside account of Corbusier's that was first published in 2008, and followed with a second print in 2018. She is presently working on a book on 'Panchvati', the Shodhan family home.